ProBio3 project: how to achieve scientific and technological challenges to boost the sustainable microbial production of lipids as biojet fuel and chemical compounds
The deal of ProBio3 project is to develop the microbial conversion on specific fatty acids of carbon substrates from renewable resources and industrial by-products. The main application fields are BiojetFuels and green chemistry. The objectives focus on the identification of renewable feedstock suitable for microbial nutritional requirements, the development of an intensive bioprocess, the proof of feasibility at pilot scale (m3) with the evaluation of environmental, economic and societal impacts. During 8 years, 16 French partners (9 research units LISBP, MICALIS, IJPB, IGM, IMFT, SQPOV, TSE, TWB, IFPen, 4 industries Airbus, EADS, Sofiproteol, Tereos et 3 technical centres ITERG, CVG, CREOL) associate their interdisciplinary competences from Life Sciences to Process Engineering including Economic and Social Sciences. With Investissement d'Avenir financial support, the expected impacts are increases of fundamental knowledge of lipid metabolism in oleaginous microorganisms, development of high-throughput tools to fasten industrial engineering strains and fermentation strategies, new extraction processes involving green solvents and realistic scale up studies towards an industrial pilot; with undeniable innovative aspects, the deal is to get competitive assets for leading international positions on a new biological route.
Probio3 a pour ambition de développer la production microbienne d'acides gras spécifiques par conversion de substrats carbonés issus de ressources renouvelables et de co-produits industriels. Les champs d'application sont le biokérozène et la chimie verte. Les objectifs de Probio3 concernent l'identification de ressources renouvelables adaptées aux exigences nutritionnelles des microorganismes, le développement de bioprocédés intensifs, la preuve de faisabilité du concept à l'échelle d'un pilote (m3) avec l'évaluation des impacts environnementaux, économiques et sociétaux. Durant 8 années, 16 partenaires français (9 publics LISBP, MICALIS, IJPB, IGM, IMFT, SQPOV, TSE, TWB, IFPen, 4 industriels Airbus, EADS, Sofiproteol, Tereos et 3 centres techniques ITERG, CVG, CREOL) associent leurs compétences interdisciplinaires associant les Sciences de la Vie au Génie des Procédés ainsi que les Sciences Economiques et Sociales. Avec le soutien financier des Investissements d'Avenir, les retombées attendues du projet sont des avancées dans la connaissance fondamentale du métabolisme lipidique chez les microorganismes oléagineux, l'accélération du développement de souches industrielles et de stratégies de fermentation par des technologies à haut-débit, des ruptures technologiques dans l'extraction des lipides et des études réalistes de changement d'échelle pour un pilote industriel; avec des aspects innovants indéniables, il s'agit d'acquérir des atouts compétitifs pour une position de leader international en production microbienne de lipides.'etitifs pour une position de leader en production microbienne de lipides.
Fichier principal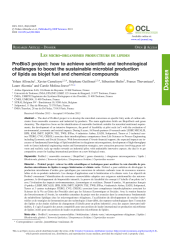 ocl130029.pdf (225.31 Ko)
Télécharger le fichier
Origin : Publisher files allowed on an open archive